Hello. Nice to meet you again. We hope you are doing well. So, we'd like to chat with you about catchy things that will give fresh air to your design context. They improve the online visibility of your store offer and draw users' attention even before the total exploring of the product. What is it? Right. Meet labels! We think you understand the effectiveness of labels online. It makes products more viewable and looks like an advert in a kind.
Today we would like to share 16 well-known websites that have great ideas to inspire you. You will surely be fascinated with visually impressive labels. Discover new solutions with us and find your own way to grow the business.
Amazon
Do we really need to introduce this website? Amazon is the leading online store available all around the world. It was founded in the USA in 1994 as an online bookstore. Now the company is the most advanced provider of popular goods such as software, games, electronics, toys, food and much more. It's a famous e-commerce giant with a complete website structure and high-quality products. Get all possible positive experience with Amazon web-pages and check out some informative and awesome labels. All goods are clearly marked. Here you can see bonus deals, sales and special offers for prime members, such as unlimited free delivery or constant discount at checkout.
Make your choice and click to get started on the website http://www.amazon.com.
Newegg
Talking about Newegg company, we say Yes to the huge set of computer hardware and software! You can also buy electronics, watches, tools, cameras, etc. The Newegg was founded in 2001. Thanks to good tips and strong advice, the company is increasing its annual sales on regular basis. Well-known manufactures represent their goods in the web store, letting you to get fully informed about the choice of products. By navigating through the store you can find products with specially created labels that highlight the brand. Such a visibility is absolutely good for brand companies. In this case it is natural to say "Brand speaks for itself".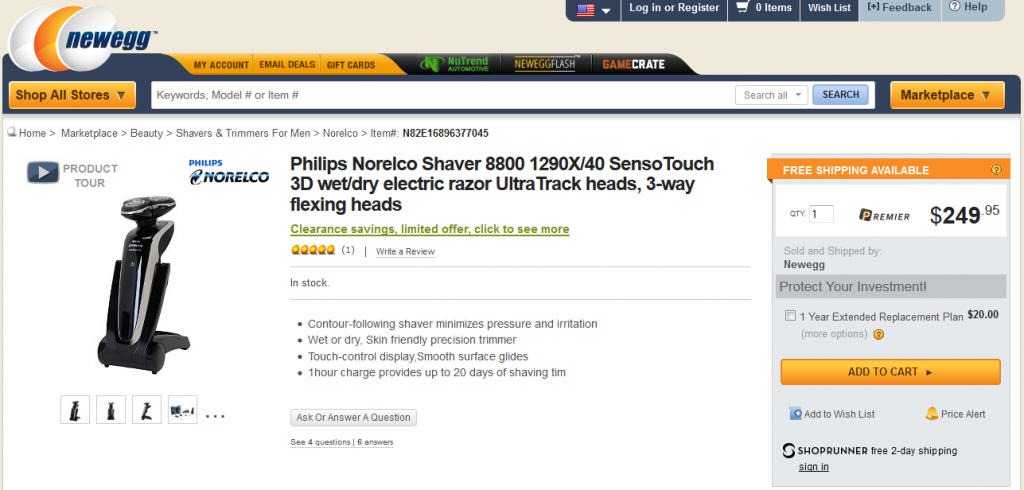 Please look at www.newegg.com and you will surely find plenty of top offers.
Young British Designers
Have a bright day with clothing of Young British Designers! The website was established in 2010 with its main office in London. It is the creative agency that meets you with new british fashion talents. You can find stunning collections of famous designers in the online store. The company provides the well customized and high quality website design. Keep your eyes on the unique labels that fully match store stylish design. Fantastic labels-stars help users better defining what to pay attention on.
Check out new designs and website benefits of Young British Designers here: http://www.youngbritishdesigners.com/shop/categories/accessories/all/
Cabela's
Let's have a look at Cabela's webstore. The company is the leader in the equipment outdoor business. It was founded by Dick Cabela. In 1991 it was stand-alone catalog showroom. Later Cabela has joined the New York Stock exchange in 2004. Now the Cabela's brand is widely known. It has 50 stores across North America. The company's Nebraska stores are in Sidney, Kearney and La Vista. The Cabela's website has millions of customers and is still confidently driving its revenue. By tracking the performance of Cabela's website we have paid attention on big bright labels with sale offers. They look like tempting bait. You have to simply follow products with these labels in order to get the most advantageous deal.
Got interested in the world's foremost outfitter of hunting, fishing and outdoor gear? Just peep into www.cabelas.com and get new shopping experience.
Northern Tool
Get more favorable perceptions of shopping online with the Northern Tool website. Northern Tool & Equipment was founded in 1981 as a mail-order shop by Donald Kotula in Minnesota. Today the company has more than 80 stores in 17 states. Run as a family business, Northern Tools team has built lasting relationships with users and always try to keep faithful customers' love. The company sells goods through catalogs, websites and more than 85 retail stores. While browsing the store, well-positioned labels with best selling offers caught our eyes. By this way the store shows its users the most successful (and sold) items for their search. Labels look like positions of the best sellers.
Want to see more? Go www.northerntool.com and find your super deal at the store.
Aéropostale
Find your own way to get inspired with Aéropostale! The company was formerly known as MSS-Delaware, Inc. and changed its name to Aéropostale. It was founded in 1987 and is now headquartered in New York City. The company provides collection jeans, t-shirts, sweaters, outerwear and accessories for teenagers (14 to 17). Aéropostale also offers clothing for kids till age 12. The company owns about 766 Aéropostale stores in 50 states and Puerto Rico and 61 Aéropostale stores in Canada. A lot of customers prefer to purchase online. That's why the Aéropostale is constantly rising its income through the website. While browsing the Aéropostale store pages, you can see quite often informative labels like Uniform Approved. By this way customers can choose clothing that completely meets the requirements of uniform standards. You can also find items that you can only buy online.
We guess you can use the perfect Aéropostale website www.aeropostale.com as next-level sample. Start working on your label content right now!
Nike
And now, without further ado, we present to you the world's most famous sports brand. It is Nike of course. One of the major footwear company all around the world was founded in 1964 as Blue Ribbon Sports and initially operated as a distributor for the Japanese shoemaker Onitsuka Tiger. Nike currently employs 30,000 people worldwide. They sell clothing and equipment for sports, that makes Nike an internationally known and most profitable sports supply company. It's creative team really knows the best key to provide clients with the positive shopping experience. Many web-shops offer discount deals, new or featured products and free-shipping offers. The Nike website is boosting its sale results by suggesting visitors to customize Nike shoes. You can browse some of popular styles and design your own exclusive model. Visitors need to be allowed to try something new, so all customizable shoes are marked with bright labels.

Design your own shoes online and remain satisfied with Nike company www.nike.com.
REI
Are you an adventure vacation lover? Not yet? Try to get in touch with REI company. Welcome to the sportswear and equipment world's mega supplier. Recreational Equipment Inc. was founded by passionate rock climbers Lloyd and Mary Anderson in Seattle, Washington in 1938. Over the years, it has become one of the world's top companies, recognized for its high quality service. You can find shoes, apparel and equipment for any kind of travel adventure in one of 135 retailing stores, including the online store. The web-store provides a lot of helpful and different labels. You can select the product created specially for REI, the discount for members only or simply the product with manufacturer logo. We are sure that users feel much more pleased when they can see at once what they get.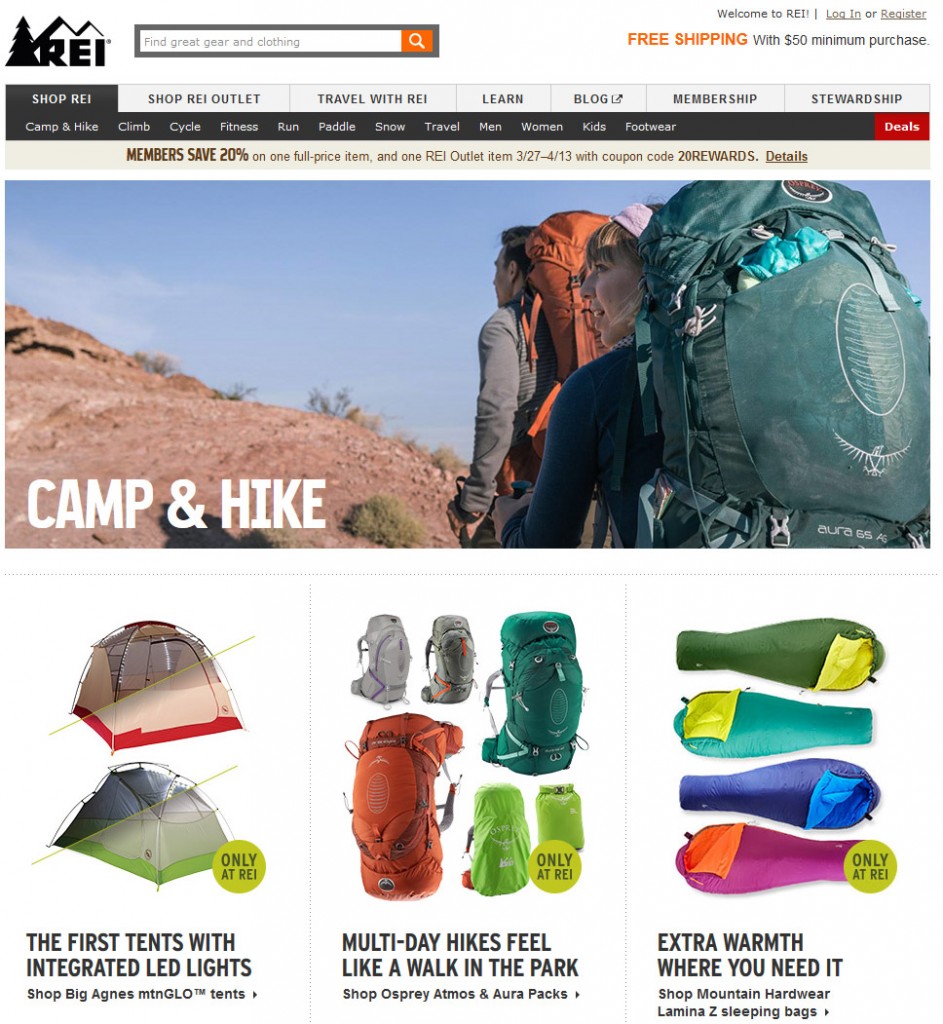 Trust your life to steady and safe REI goods www.rei.com and enjoy your travel of any adventure level.
Geox
Light up your imagination by viewing fantastic labels on Geox store's pages. The company is one of the top shoe manufacturer in the marketplace. Based on "breathable shoe" technology, the Geox shoes will always keep your feet healthy and comfortable. The company was founded in 1995 by Mario Polegato and became a rapidly expanding shoe and apparel retailer. Many customers worldwide prefer to wear Geox shoes because they seek to mix an exciting Italian style with advanced design innovations. We agree that it is an excellent idea to put remarkable labels such as mentioned on the screenshot below, on all suggested products. By this way visitors are allowed to pick up the clothing or footwear according to their requirements, depending on what they are looking for: breathable, waterproof or thermoregulating fabric system.
Keep your feet healthy with Geox and become more experienced with www.geox.com.
Vitacost
Let's glance at fool-proof Vitacost website. It captured us by the perfect usability and clear descriptive labels. The Vitacost is an American online retailer of health supplements based in Florida. It sells vitamins, supplements, sports nutrition and organic health and grocery products.
The company was founded in 1994 as a catalog retailer. Nowadays it is one of the world's most successful companies. Special discounts, promo codes, free shipping offers are displayed like great-looking labels. They do indeed encourage everyone to focus on the best offer of the day.
Get healthy living with www.vitacost.com. The store has nice reputation, so why not using its service?
Meninos
Surfing online, we found a nice website with friendly gifts. You can find there a lot of decoration items for your apartment, fancy things for personal care and much more. The Meninos design house was launched by co-founders Bruno Warchavsky and Diogo Magalhães in Rio de Janeiro, Brazil. Nowadays the company holds a worldwide network of distribution. The Meninos operates 3 centers located in the United States, Brazil and Hong Kong. Young people of all ages can always buy exclusive products basically designed by Meninos studio. What about labels? See for yourself.
Creative and not identical labels tell their own tale.
Get inspired with Meninos Studio www.meninos.us. Fill your home with cool stuff.
Adafruit
We think each person will highly rate the Adafruit website. They can give you what you need. Great choice of wearable electronics and geek stuff will fit any group of any skill level. The Adafruit store got started running in 2005 by Limor Fried. Now it is an intensively growing company that specialises in electronics, development tools and prototyping. In 2014, Adafruit was ranked #11 in the top American manufacturing companies. That's why we recommend its website as an excellent place to learn online about electronics. You can check out the powerful site's features as well as well-designed products. Catchy labels on the homepage will lead you to featured, new products or even guide sections for beginner. It will help you to browse in a better way the store and choose the best tips for you.
Want to educate yourself? Try www.adafruit.com and make sure that "Learning is fantastic"!
Brando
This is where the online suppliers come up with new ideas in order to help customers getting innovative and functional products. It was founded in 1999 and still has a good website traffic level. The online store offers to choose the best from a line of unique designed products. You can find here gadgets, video game, smartphone accessories and much more lifestyle products.
The company is taking care of its faithful customers, so they can always use "Today's super deal".
In order to help you getting a nice shopping experience, the store marks hot items with colorful labels. Using promotional tools like promotional labels is an efficient way to increase the online store popularity.
Let's visit Brando shop shop.brando.com. They do propose nice ideas and perfect special offers in the web-shop.
Imaginary Foundation
It's impossible to check out the following website without starting to dream. The Imaginary Foundation was founded in 1973 by men with deep power of imagination from Switzerland. The company is privately held and is located at the Tennessee St, San Francisco, California. A lot of retailing stores in Austria, China, Italy, USA, UK, Poland, New Zealand sell its very beautiful and high-quality clothing. T-shirts, tops, hats, hoodies and much more will make you looking great. The Imaginary Foundation online store receives about 951 unique visitors per day. Anyone who visits the website can find hot discounts or new special offers. Big labels are really recognizable. Such custom labels of different size and shape can easily draw users' attention. You can borrow the company labels' idea and give a new visual experience to your clients.
Improve your imagination and creativity with www.imaginaryfoundation.com.
Photojojo
Beyond all tremendously fine website samples above, we'd like to introduce the Photojojo brand. It was founded by the highly hobby photographer of indian descent, Amit Gupta. Enjoy the online shopping of the biggest selection of awesome photo accessories. Whether you just need a gift or you are an everyday photographer, you will always find unique and cool gadgets in this store. For the last years the catalog has grown to about 200 items. All of them are designed to help you feeling excited by making photography fun and convenient. In our opinion, the website is developed with clients in mind. Developers used a lot of ways to differentiate products in the store. For instance, the multipurpose labels that are applied on goods make the store offer clear and catchy. By using little but bright labels-flags, customers can choose the best offer.
Visit https://photojojo.com and you will surely become fun of this store.
We've outlined each website in this blog in order to show how important and helpful the use of labels can be. Many software developers offer various modules, which can help you to add call-to-action design elements to your products. Meet the Prolabels extension https://templates-master.com/magento-prolabels-on-sale-tags.html made by Templates-Master company. It will help you to add professionally looking call-to-action labels to your magento store. Our plugin provides an easy to use interface for creating of custom message with dynamic generated values.
We hope you will find today's post of value. Adding labels to your website pages is a foolproof idea to draw users' attention. Allow your customers to use the information displayed on eye-candy labels. It will surely push them to choose the best "today's" offer. In order to create a beautiful-looking label, we recommend you to properly customize it. By using the extensions interface, you can add labels based on predefined rules, create your own labels with unique shape and size, and you can also specify the date and time for labels display.
That's all for today. Label ideas have actually to be implemented. Don't worry. It will be peace of cake.