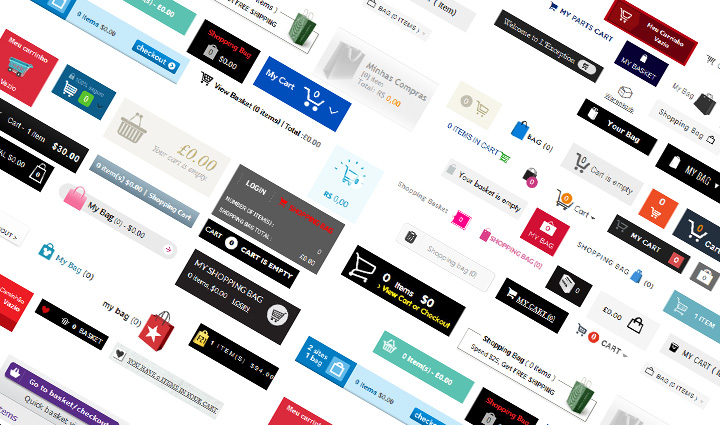 No matter what you sell, you have to offer well-designed page elements to suit everyone. Having years of experience in website design service, we've been noticing that many website developers pay mostly attention to the shopfront of the shopping cart. Today we'd like to focus on shopping cart/bag/basket icons available on each ecommerce store page. We'd like to share the most appealing ones that deserve to be hold up as an example.
In our opinion, the shopping cart element should be visible and well-organized. Its main goal is to allow customers to check out with a few simple clicks on the mouse. The three leading points are:
no complexity
easily understandable text
visually appealing design
For an easy comparison, all collected icons were grouped in different listings with various information features. Here they are...
The first collection includes commonly installed buttons with text link. It looks clear but is not always recognizable. Some among the webshops offer buttons with a nice combination of color and font. If that is the case, it will be easier to catch sight of cart icon.
It would be much better to replace the buttons mentioned above with significant cart or bag images. You can display the number of selected items there or simply show the cart image styled on your own. While surfing online, we bumped into awesome websites with creative shopping bags and trolleys. Carts are catchy and easy to recognize, thereby there is no need to search Shopping cart text especially if the website is provided in a foreign language.
You can also place attractive images of shopping carts with a unique name. From our point of view, bags should be better placed on fashion store, antique webshop, kids supply or health food store. Carts or trolleys are associated with household, grocery or toys web-shops. The following icons look user-friendly and memorable, don't they?  
You can spot quite often bright shopping cart icons alongside with a clear title. They are not only simply illustration, but also display the total number of items you have in your cart. That number is automatically calculated. Plenty of the following icons take up less space, so it is a fine idea to place such little icons on mobile version. Visitors will quickly find the place where they will be able to checkout the purchase.
Now we'd like to share with you a few really advanced shopping carts. Icons are highlighted with a distinctive color, name, product quantity images, etc. Some of them are decorated with visually appealing elements that make shopping carts, baskets, trolleys and string bags immediately recognizable. Many icons provide the functional viewing - customers can check the number of items that have been put to the cart and the cart subtotal. Many up-and-coming stores show special offers such as login or free shipping inside the cart icon. The offer can be applied to order of particular sum or more based on cart subtotal.
Moreover, you can enliven the shopping cart image with the embedded logo. That will make the icon more original. Your distinctive iconic bag will look unforgettable. In our opinion, it's great idea to design shopping bag icon like the following websites have done. They transformed the visible site element into a powerful attraction.  
Get more experience in displaying new meaningful icons! What do you think of the word Checkout? Guess you feel ready to buy right now. Thus, a lot of websites have used the shopping cart icons with Checkout watchword in order to motivate shoppers. The following outstanding samples are a sort of communication with customers. You can place the Checkout or other call-to-action text. Let's take a look…
The last collection of icons for today looks clear and smooth. No images, no logo, the only informative understandable text indicating the shopping cart, basket or bag. The icons also provide visitors with the information of what number of items is inside the shopping cart. Look too simple? However, we remember one thing Walt Whitman said "Simplicity is the glory of expression". That's all up to you!
Perhaps you've been searching for good idea about a shopping cart you want to implement in your upcoming site. We truly hope this article will help you to decide what design is the most effective. You might trust our guidelines and max out your own shopping cart style!